In this week's issue of LeadCrunch's Best in B2B Growth, we bring you a diverse set of articles about avoiding common B2B content marketing mistakes, social media strategies, and using Pokemon to increase B2B sales leads. This week's issue also features a live webinar - The B2B Lead Gen Volume Trap — is less actually more? with Michael Fertman, Principal at B2B Marketing Group.
Enjoy your week,

The LeadCrunch Team :: High precision B2B leads using artificial intelligence
@lead_crunch | 1-minute video | Try us for free | Subscribe to this newsletter
---
Curated content - summary
---
The best B2B webinar you'll attend this September...


[live webinar]
The B2B Lead Gen Volume Trap — is less actually more? with Michael Fertman, Principal at B2B Marketing Group
---
Curated content - detailed
Social Media Works for B2B Sales, Too by Mark Kovac via Harvard Business Review
The chief marketing officer at a major technology provider recently voiced concerns that I've heard from several other CMOs: "Our customers have gotten way ahead of our sales efforts. Too often, we're not even getting invited to the dance." This tech company's website, like many others, overflows with information about product features but offers few perspectives about how the products truly solve customers' problems.
How B2B Marketers Use Facebook to Reach Customers by Andrea Vahl via Social Media Examiner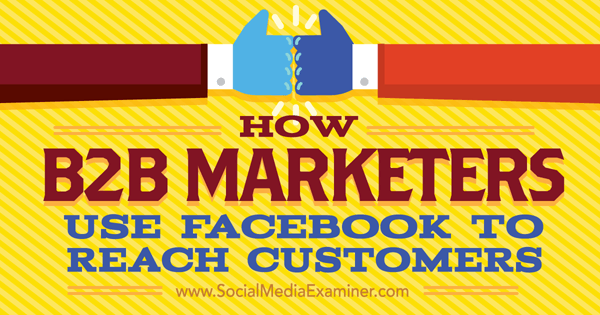 Is your business struggling to connect with other businesses on Facebook?
Need some ideas to spark your imagination?
In this article you'll discover nine ways B2B marketers can use Facebook to connect with customers.
Avoid These Common B2B Content Marketing Mistakes by Brent Adamson and Patrick Spenner via Harvard Business Review
B2B buyers often have made up their minds about a purchase before a sales rep even gets a foot in the door. It's no wonder, then, that more than 90% of B2B sellers have turned to content marketing to help regain access to buyers in the early stages of the purchase process. Yet CEB research finds that most of these efforts fall short of expectations. Why? The research, involving over 5,000 B2B purchase participants across 12 industries, uncovered three mistakes that undermine firms' content marketing.
How B2B CMOs Can Align Sales and Marketing by Bob Domenz via Branding Magazine
Common sense, along with plenty of research, points to the obvious: that when sales and marketing work well together, the bottom line benefits. Why, then, is it so uncommon to see B2B sales and marketing functions truly aligned and moving forward as a team? And what practical steps can B2B organizations take to not simply remove friction between the two functions, but actually optimize their results?
4 Ways To Use Pokemon Go To Increase Your B2B Sales Leads by AJ Agrawal via LeadCrunch
Pokemon Go has become the next big thing. It has managed to achieve over 75 million downloads worldwide, which makes it one of the leading apps on the planet. From a business standpoint you may wonder why it matters. Creative entrepreneurs have found an unlikely strategy to generate B2B leads when it comes to Pokemon Go. They have learned a lot from it.
As a brand you can generate B2B leads in the online world and in the offline world. Pokemon Go can help you to target both of them. This guide is going to show you three of the ways in which you can use Pokemon Go to increase your B2B sales leads.
Enjoy your week!

The LeadCrunch Team :: High precision B2B leads using artificial intelligence
@lead_crunch | 1-minute video | Try us for free | Subscribe to this newsletter